BLOG - www.jurongwest.wordpress.com

My Name
My Life Story
Some Significant Dates
Past Places of Interests

The Japanese Imperial Army employed the 36 strategy "声东击西" That is West of Singapore, Jurong. 64 years ago, it was the battleground of our great grandfathers.  64 years later, it was a playground for our great grandchildren.
When I feel sad, my tears drop. When the tree feels sad, their leave drop.  My fallen tears and the fallen leave share a similar fate. The root of history maybe forgotten after sometime. This is the reason why I start to collect the seeds of the history from various sources and planted it in this website www.jurongwest.com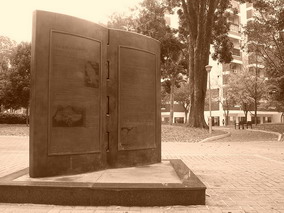 Texts on the stone tablet:
"The narrow ridge connecting the sources of the Jurong and the Kranji River was a natural defence line protecting the North West approach to the city. The Allied troops were to defend this line strongly against invading Japanese.
However, Lieutenant-General Arthur Percival's secret orders to withdraw to the last defence line around the city, only if necessary, were misunderstood by the defending Allied troops. As a result, the 14th Indian Infantry Brigade, the 12th Indian Infantry Brigade and the 22nd Australian Brigade, reinforced after their withdrawal from Sarimbun Beach in the north-west, abandoned the Jurong Kranji Line on 10th February 1942. This allowed the Japanese forces to sweep through the line to attack Bukit Timah."
The British Army speaks English. The Indian, Chinese, Malay Infantry speaks their own language. I wonder how do they communicate efficiently. 

Long time ago, the Chinese dominated in Chinatown and the city areas. There are only a few Chinese in the west of Singapore. The locals Malay dominated the west of Singapore. So Jurong should be a name derived from Malay language.
Jerung in Malay means voracious shark, there is no shark in Jurong so out
Jurang in Malay means deep valley or distance apart. Maybe the Malays use Jurang because it was a distance apart from city.
Jurang and Jurong sama sama, so I guess the Ang Moh mistaken the spelling of Jurung and written it as Jurong. Also in the past, the pronunciation and spelling of some Malay words are different from the present. In the past, Shark in Malay is Jerong and in the present, Shark in Malay is Jerung.
Hi my name is Jurong, last time my Chinese name is Peng Kang because there is a gambier plantation in this area. There is a Peng Kang Hill situated in a military restricted area. In 1906, rubber plantation dominated the area of Bulim, Lokyang, Chong Keng, Seng Toh, Yunnan.  Life is boring, everyday I see rubber trees.
In 1929, I was connected to Bukit Timah.  But I still carry on shaking legs, nothing to do.  When the British leave Singapore, Government wanted to solve $$$ problem. Time for me to stand up, I told the Government that my coastal waters were deep, I got many hills that could do landfill. Please convert me to a heavy industries park. 
1961, the Economic & Development Board (EDB) was formed
1962, Finance Minister Dr Goh Keng Swee laid the foundation stone for the 1st factory (National Iron and Steel Mills)
1963, 24 factories were established. PM LKY make me the initial constituency
May 1965, Jurong Port was operated.
1968, the Jurong Town Corporation (JTC) was created.
1970s amenities such as hawker centres, banks, clinics were added into me
1980s people started to move into Jurong West & Jurong East
1990s developed Jurong West extensions and arrival of MRT
I am very busy with lots of new business and factories, I need more land. So Government joined the 7 little islands beside me and formed a Jurong Island which specialized in oil, petrochemical and chemical industries.
I also have 2 bridges, one that link to Jurong Island and the other link to JB.  In the 1970s, the factories sign a 30 years old contract, after their contracts expired in the 2000s, many factories move to lower rental costs countries such as Thailand & Vietnam.
Some Significant Dates

28 April 1965
First Scooter Factory
Spore 1st motor scooter plant is opened. The East Asiatic Company Ltd's Vespa Assembly Plant, making scooters for the Italian brand Vespa, opens in Jurong.
17 May 1968
First Watch Factory
Finance Minister Goh Keng Swee opens Spore's 1st factory making Swiss watches in Jurong. Owned by Swiss firm United Precision Instruments, the factory is a joint venture between the European company & local entrepreneurs.
15 Jun 1966
Jurong Refinery Opens
Minister for Finance Lim Kim San opens the $50 million Mobil refinery at Jurong. The event is attended by top officials such as EDB chairman Hon Sui Sen. This is the single largest investment by an American company in Spore.
18 Aug 1973
Time Capsule Buried
A time science capsule is buried at Jurong & will be opened in 1983. The item in the capsule represent skills which range from shipbuilding to fabricated electrical & other precision products. 
10 Sep 1972
Heavy Flooding
A heavy 5 hour downpour floods various parts of Spore, stalling dozens of cars. 5 people are injured when their bus lands in a drain along Jurong Road. 
12 Oct 1978
Tanker Diaster
An explosion, followed by a raging fire, rips through the engine and boiler rooms of Greek tanker Spyros at Jurong Shipyard. A s a result, 76 people working on board are killed and 69 injured.
 14 Oct 2000
Jurong Island Opens
Prime Minister Goh Chok Tong declares Jurong Island offically open. The island, an amalgamation of seven smaller islands, is earmarked for the development of Singapore's chemical industry.
Past Places of Interest

1)                  Boon Lay Swimming Pool
2)                  Four Sea Cinema
3)                  Taman Jurong Swimming Pool
4)                  Drive in Big Screen Cinema
5)                  Big Splash Swimming Pool
6)                  Tang Dynasty
Boon Lay Swimming Pool
I learn my swimming strokes in this pool. It has an Olympic standard pool and a wading pool.
Four Sea Cinema 四海戏院
It was located just beside Boon Lay Swimming Pool, the last movie I watched in this cinema was "Jurassic Park"
Taman Jurong Swimming Pool
It has a 2.7m deep pool for board jumping and a wading pool.
Drive in Big Screen Cinema 大银幕
It was situated along Yuan Ching Road, the last movie I watched in this cinema was "Project A" A计划 by Jackie Chan. A cinema which built in late 1970s where you could drive in the car and catch a movie.   
Big Splash  三越
It was situated along Yuan Ching Road, there used to be 2 big splash pool one in Taman Jurong and the other in East Coast. The one in Taman Jurong was owned by a Japanese company三越
The Fall of Tang Dynasty 唐城
The Walls of Tang Dynasty was constructed on the land of the Big Screen Cinema and Big Splash.
Yuan Chin Road used to be the Silk Road bringing traders & visitors to the Tang Dynasty 

Old YaoHan check spelling
Sheng Song take over, before that what was there?